The Best Open Mic Comedy Night in the North West
History of Beat the Frog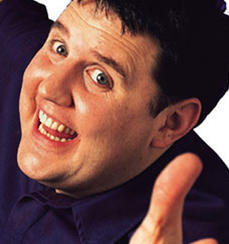 Beat the Frog is our legendary amateur comedy night, which runs each and every Monday. Some of comedy's biggest names including Jason Manford and John Bishop, started off on a Monday night here at the Frog. It's had a few name changes over the years including 'Raw' and 'Best of British' – but the current format of the Beat the Frog was introduced in 2003. Over the years Peter Kay, Johnny Vegas, Smug Roberts and Mick Ferry, to name a few, tried their luck on a Monday night and never looked back.
How does it work?
The format allows the audience to decide who stays and who goes. An established national compere will introduce up to 10 acts who are each competing to last 5 minutes on stage without being carded off by the 3 chosen card holders in the audience. If they last the full 5 minutes – they have "BEAT THE FROG". At the end of the show all the acts who successfully "beat the frog" are invited back on stage for a clap off to award the night's winner. A winner from each week is put forward to heats in October which results in an annual final known as the 'World Series', crowning one winner.
As of 2015 we now have 3 prizes to be won at the 'World Series', The Main Prize (made up from audience votes), A Panel Prize (made up from respected industry voters) & the runner up, each comes with its own unique trophy.
Progression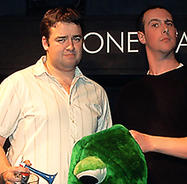 The World Series finalist wins a paid club spot at the Frog and Bucket, plus a cash prize and substantial press coverage. Furthermore, other acts who beat the frog are given the opportunity to return to open the Monday show with an 8 minute spot, these 8 spots are monitored closely for progression to a Thursday middle spot of 10 minutes. Feedback is also sent to a national comedy talent agency and bookers for other clubs.
How do i participate in the audience?
If you're a student it's free entry, otherwise it's a very friendly £5. You can book in advance to reserve a table otherwise arrive early to guarantee a seat. If you're lucky the compere will award you a big green card, giving you control of who stays and who goes.
I think i'm the next Peter Kay
If you want to get yourself booked in to grace our stage at the Frog, and follow the footsteps of many legends then please register on www.beatthefrog.com or email beatthefrog@frogandbucket.com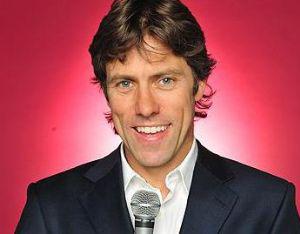 I got into comedy completely by accident. When I went along to the Frog and Bucket for an open mic show, I only meant to watch… I'd never been on a stage before and I was shocked by how bright the lights were. I couldn't see anyone. And I only had one joke… At least four of them chuckled. That first laugh, it's like losing your virginity – it's not perfect and you know you'll get better but you're completely bitten by the bug. John Bishop, 2000